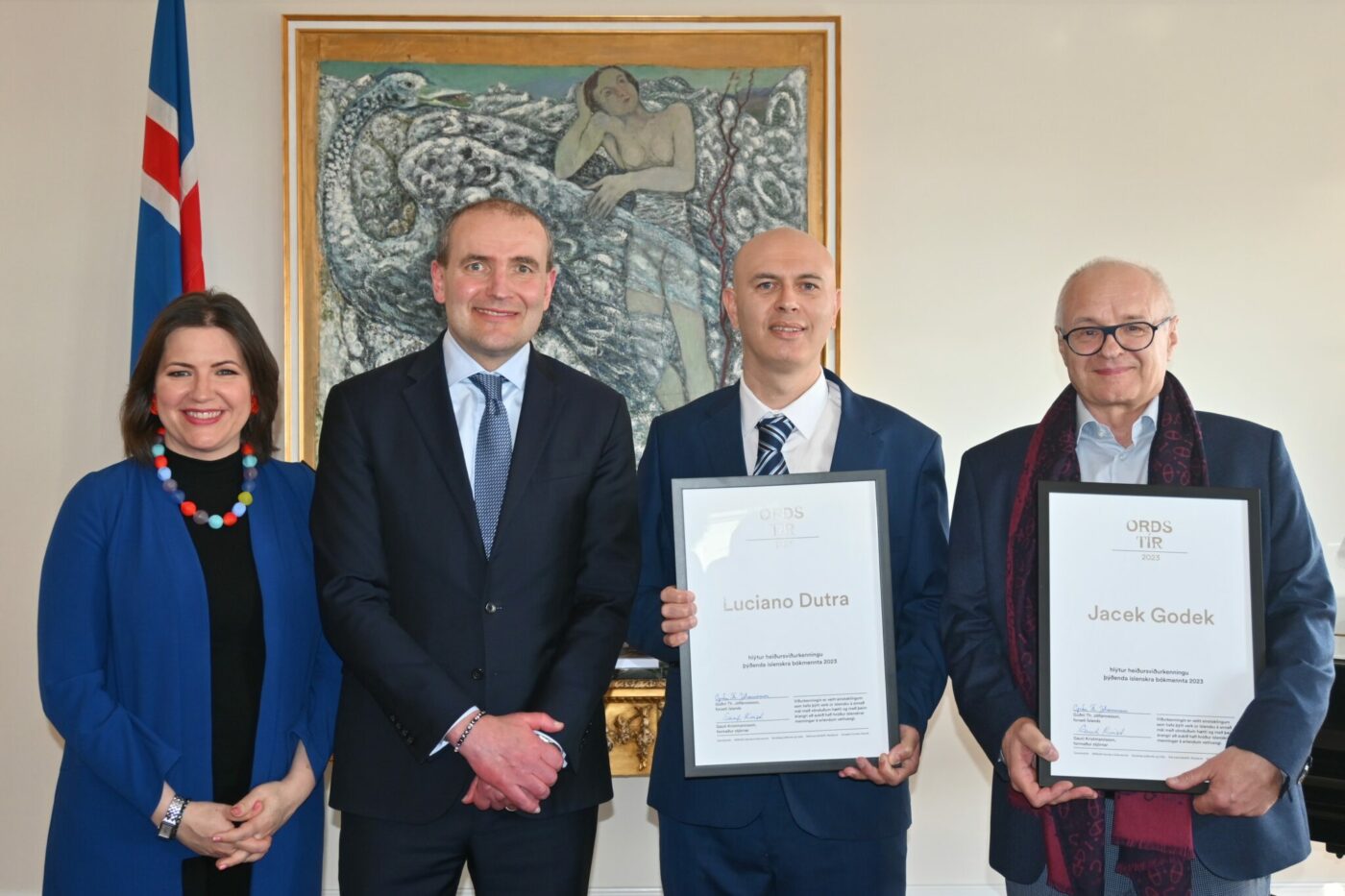 The President of Iceland presented the fifth annual Orðstír Prize at the Presidential Residence on Friday, April 21 at 4PM. The Orðstír Prize is awarded biennially at the Reykjavik International Literary Festival, in recognition of two translators of Icelandic literature whose outstanding translations and active promotion of Icelandic literature have supported Icelandic culture abroad.This year's awards were presented to Luciano Dutra and Jacek Godek. 
Brazilian translator Luciano Dutra first came to Iceland in 2002 to study Icelandic, with the goal of sharing medieval Icelandic literature with his fellow countrymen in their native Portuguese. Dutra is a prolific, versatile, and award-winning translator of Icelandic literature into Portuguese, and his works include Rökkurbýsnir (e. From the Mouth of the Whale) and Skugga-Baldur (e. The Blue Fox) by Sjón, and Englar alheimsins (e. Angels of the Universe) by Einar Már Guðmundsson. He's also an advocate for Icelandic poetry in translation, and has published one translation of a Nordic poem per day since 2016 through um poema nórdico ao dia. In 2014, Dutra founded the independent press Sagarana editora forlag, which has published and promoted many Nordic authors in Portuguese translation, including Josefine Klougart and Karl Ove Knausgaard. 
Polish translator Jacek Godek has translated Icelandic literature into Polish for more than 50 years. He lived in Iceland as a child, and attended both Melaskóli and Hagaskóli in Reykjavik, but matriculated to university in Poland. The manifold works Jacek has translated include the poetry of Jónas Hallgrímsson and the poetry book Frelsi (e. Freedom) by Linda Vilhjálmsdóttir, which received the European Poet of Freedom award in 2018. Jacek has been a powerful advocate of Icelandic literature in Poland, and the novels he has translated number in the dozens. His most recent publications include Kláði (e. The Itch) by Fríða Ísberg and Kvika (e. Magma) by Þóra Hjörleifsdóttir. He is currently working on a new translation of 101 Reykjavík by Hallgrímur Helgason and a translation of Aprílsólarkulda (e. Sunny April Cold) by Elísabet Jökulsdóttir, who was one of Jacek's schoolmates in Iceland. 
The works of these two powerful translators have made their way into the hands of innumerable readers in Portuguese and Polish, introduced new readerships to Icelandic literature, and built sturdy, significant bridges between these countries. Both Jacek and Luciano are true ambassadors of Icelandic literature in the world. On Sunday, April 23 at 3:00PM GMT, they will speak with Salka Guðmundsdóttir, Gauti Kristmannsson, and Elísabet Kristín Jökulsdóttir at Veröld—the House of Vigdís.
About ORÐSTÍR
Orðstír is awarded by the Icelandic Literature Center, The Icelandic Association of Translators and Interpreters, Promote Iceland, the Office of the President of Iceland and the Reykjavik International Literary Festival. The board of representatives of these organizations at this time includes Gauti Kristmannsson, Guðrún C. Emilsdóttir, Kristjana Rós Guðjohnsen, Sif Gunnarsdóttir and Örnólfur Thorsson.